Right now I am about to start one of my least favourite assignments of the week. An ECON 101 online assigment, which means I need to do the weekly reading before I do it and it's due at 10pm tonight. . . the exciting Production Possibilities Curve:)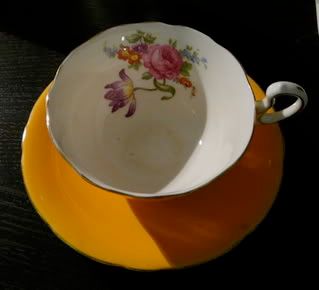 I try to entice myself to sit down at my desk and actually get some work done by surrounding myself with things that are special to me. First of all there is my beautiful antique teacup. I love the rich colour of it. I love to drink loose leaf teas and even Yerba Mate out of it. I'm sure that Opa would love to see me drinking Mate out of an English teacup rather than and ox horn from Paraguay! I guess that's the way our Canadian culture has become. We're just a melting pot of many different cultures. I love my new moccasins and Native art. I love Indian food and Latin Jazz.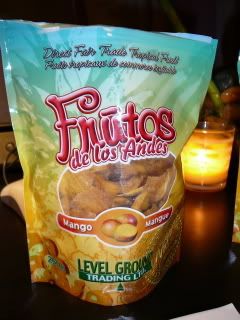 I cannot forget my yummy dried mangos to keep my tummy full and my mouth busy while I study. Of course it's the best dried mangos ever from Ten Thousand Villages. I think that it's so resourceful that the producers in Columbia sell the fruit from the trees that shade the organic coffee beans.
Ok, well I'm all settled in - it's time to work!!