I've had a very exciting opportunity this summer to work for the official Charity of the FIFA U-20 World Cup. I have been working as the contact in Edmonton to organize volunteers, as the main office of the Charity is in Ottawa. FIFA has given us a great platform to raise awareness about
SOS Children's Villages
. We're raising money for a Village in Namibia for orphaned and abandoned children. These villages have about 10 houses and about 7 orphaned children in each house. The villages provide more of a family life than an orphanage could - as there is a mother who lives with children in each house as they grow up. Being an SOS mother is a very large commitment and they have my utmost respect. In the villages there is also medical attention on site, a kindergarten, vocational training and social programs. FIFA even provides Soccer pitches, so that the kids can develop self esteem and have fun.
Here is my very enthusiastic volunteer team (only part of it!). We've been face painting like crazy to attract people to our tent so that we can tell them more about the village we're raising money for. Today we started selling raffle tickets to raise money for the village. It's been going really well and I've been having so much fun with all these great people. There is a bit of stress with all of the logistics of setting up the tent and FIFA regulations, but it's worth it and I'm so glad for the experience of working for an NPO as it's what I'd like to do once I graduate from University.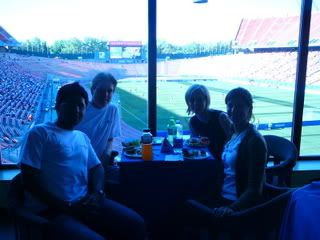 A few of my volunteers and I were lucky enough to get VIP tickets to the first game. here we are at our table overlooking the Commonwealth Stadium. The stadium is so huge that the Edmonton Eskimos haven't even sold it out. Normally, soccer tournaments are at stadiums that seat 20 000, but this stadium seats 40 000!!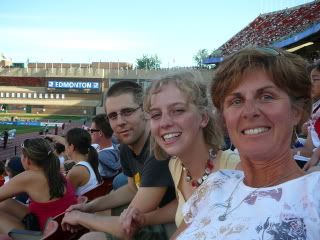 Zak's mom even made it out to one of the games. Here's me, Zak, and Becky in the stands.